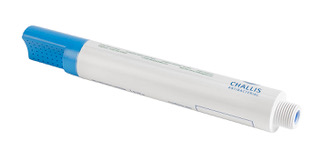 Antimicrobial / Antibacterial tap filters and shower filters have up till now been an expensive solution to an often critical problem of unexplained pathogen flare-ups such as Legionella, Pseudomonas.
You need a safe and reliable solution quickly, easily and most importantly cost-effectively.
If you want to cut your costs by as much as 70% in these critical areas whilst improving safety and reliability, the Challis Ag+  antimicrobial/antibacterial Shower Filter & Tap Filter units are the answer.
Challis Ag+ are pleased to announce the approval under the WRAS scheme of their antibacterial shower filters & antibacterial tap filters.
Available immediately from stock the Challis Ag+ Shower & Tap Filters offer significant advantages over and above any filter units currently available in the UK market.
Up to 150 Days 24/7 Antimicrobial Protection
3 x More Filtration Membrane Than Nearest Comparable Filters
Effective Against the Broadest Range of Pathogens of any Filter Currently Available
Universal Fit (No Expensive Adaptors)
Only Units Currently Available with Optional Integrated Check Valves
Unrivaled Value for Money
Unrivaled Performance
Unrivaled Reliability
In water contaminated with pathogens, even light can constitute a real sanitary danger, one famous example being Legionella. The most efficient solution is a filtration at the point of use. Challis Ag+ MicroFilter units are microfiltration membrane cartridges made of Polysulfone which filters and retains high bacterial charges and thus prevents contamination and its consequences. It secures the water at the point of use and is particularly suited to high dependency areas where risk is high. With a lifetime flow capacity of 30,000 liters and an effective membrane area 3,500 cm the Challis MicroFilter units 3 times more filtration capacity than comparable filters currently available in the market. The Challis Ag+ MicroFilter is the only shower filter that comes complete with integrated check valve. This means that bacteria caught in the filter cannot flow back into the hose and supply pipework causing retro-contamination. The Challis MicroFilter is the only filter shower currently available on the market that has this feature or capability.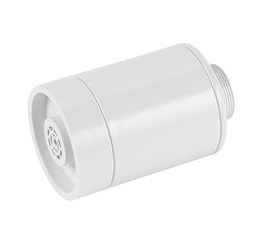 Pathogen-Free Water – Complete Legionella Prevention
The Challis Ag+ MicroFilters are composed of microfiltration hollow fiber membranes integrated into the shower handset & tap module. The membrane pore size of 0.1 micron, that is to say, smaller than the smallest micro-organism such as legionella which is (0.5 – 0.7 micron in size) and as such provides optimal filtration and protection. The Challis Ag+ MicroFilter Shower microfilter membrane is manufactured to the highest of standards. These membranes are NSF61 and WRAS approved.
High Flow and Long Working Life
Challis Ag+ MicroFilter units offer the best technological compromise in a shower handset design with our integrated shower rose and filter. The water passes from the outside to inside of the hollow fiber membrane (small porous plastic tubes less than one millimeter in diameter) barrier while the suspended matters and bacteria are captured on the membrane surface. The hollow fiber membrane material (Polysulfone) and the outside/ infiltration water circulation system offers a high chemical and mechanical durability with extended filtration membrane area enabling high flow, excellent performance and a long lifetime, significantly outperforming all of the filters currently available.
Easy installation, Instantaneous Protection
The Challis MicroFilter Shower handset and tap modules have been specifically designed for speed and simplicity of fitting and include standard fittings to screw to any ordinary shower or tap outlet. The complete handset including the filter cartridge is replaceable. The bacteriological protection starts immediately after installation.
At Challis Ag+ we believe that the very best referral is your own experience in your own application.
If you would like a Unit to Test FREE OF CHARGE  Click Here and Quote Blog Free Shower Filter Offer*.
*Offer Restricted to Business Users & NHS Trusts
Challis Ag+ Antimicrobial Shower & Tap Filters
Combining Safety, Reliability, Value for Money and an Extended Working Life