Challis Ag+ Tronic Basin Tap
Operational reliability
Polarity-independent connection minimises the risk of incorrect wiring and ensures reliable operation and easy maintenance.
Easy to programme
It is easy to programme the mixer by holding your finger in front of the sensor according to the instructions. If you prefer to programme it with the remote, that is just as easy.
Plenty of options
The FM Mattsson 9000E Tronic has six preconfigured programmes plus a seventh programme for selecting free flow delay and free hygiene flushing time and interval using a remote control.
Automatic hygiene flushing for increased hygiene
The FM Mattsson 9000E Tronic has an automatic hygiende flushing function as well as a manual flushing function. Some models have an extra cable for centrally controlled hygiene flushing.
Vandal-proof
Built-in battery, no hanging cables, lockable mixer settings, temperature knob can be re-placed with a cover. All these features are de- signed to make the mixer as safe as possible.
Lead-free
FM Mattsson 9000E Tronic is lead- free.
View the AG+ Tronic Basin Tap Brochure (pdf.)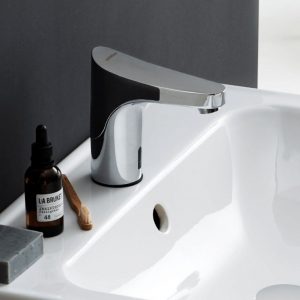 Scald protection
The mixer has a temperature limiter that can be set to prevent the temperature knob from being turned to maximum
Battery and mains operation in the same model
The mixer comes pre-pared for both battery and mains operation, and it is easy to switch between the two. Temperature knob The FM Mattsson 9000E Tronic is available with or without a temperature knob. If you choose a model with a temperature knob, you can replace the knob with a cover after setting the temperature. All electronics above the worktop The FM Mattsson 9000E Tronic has all electronics inside the mixer body for easy maintenance.
Energy-efficient and economical
With the FM Mattsson 9000E Tronic, you can choose the flow delay time you want. This makes the mixer safer, more energy-efficient and more economical. EcoFlow 5l/minute.
Installation friendly
The standard model is equipped with swivel hoses and swivel nuts to prevent the hoses from twisting during installation.