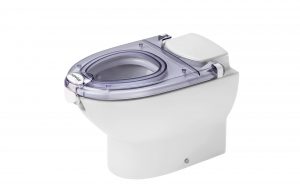 Saving the planet – one hygienic flush at a time
Let's start with a fact – only 3% of the world's water is drinking water, we use more and more of it daily, and every time we use a toilet we flush away vast amounts of this scarce resource
Fact number 2 – 48% of the water in commercial premises is flushed down toilets, at considerable cost.
Water isn't just our most precious natural resource – it's expensive. Each flush uses an average of 9L of water – and for many organisations, it's a significant cost.
Our partner NovaLoo helps businesses across the UK to slash water bills and their environmental impact – using the unique Propelair toilet system that reduces water usage to just 1.5L per flush. Toilet technology hasn't progressed in more than a century. Propelair changes that, with a unique system that uses just 1.5L water per flush, whilst delivering real hygiene, performance and cost benefits.  
The last year has highlighted how organisations want to build back better, and here is an innovation that can help that. The Propelair toilet is already in use by forward thinking, cost-conscious organisations across the UK. From Barclaycard and Thames Water, to Kings College London and The Princess Alexandra Hospital, businesses in every industry are reaping the real world benefits of lower water usage.  
And to add to an already strong business case, its is far more hygienic. The Propelair toilet reduces aerolised germs by up to 95% helping you to make your site safer for staff and visitors alike. (Click Here to Watch Video Illustrating This) Are saving almost 875 million litres of water every year, and that sustainable leap has been achieved with very fast paybacks.
Saving the planet whilst paying for itself very quickly, and hygienically seems like an important step to take.
Since 2020, companies have experienced a 25% increase in water demands due to necessary processes such as increased hand-washing. But the subsequent increased costo f this on your expenditure quickly adds up. Decreasing your commercial water usage is an adaptable way to save money in the current climate.
I am sure you would welcome the opportunity for us to introduce our partners Novaloo to you; they can create with you a business case relative to your sites, they can even aid in providing capital to achieve the savings.
For More Information Call us on 01629 530800 or email chris@challisms.com