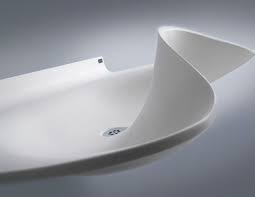 Why Not View Our Range of Innovative Surgery/Scrub Sinks Click Here
Challis Ag+ and our Swedish partners NOAS are proud to introduce our innovative range of Surgery Sinks sink made from Corian, specifically and uniquely designed for healthcare settings in the UK. The sink's features and benefits make it a perfect solution for busy hospitals and clinics seeking to improve hygiene standards, and enhance patient safety.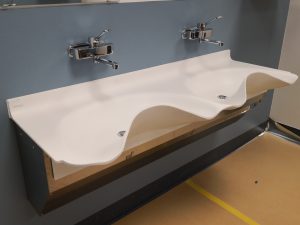 The Challis Ag+ NOAS Surgery Sinks ares made from Corian, a durable and long-lasting material that is resistant to scratches, stains, and bacteria growth. Its smooth, non-porous surface makes it easy to clean and maintain, ensuring optimal hygiene standards are maintained at all times.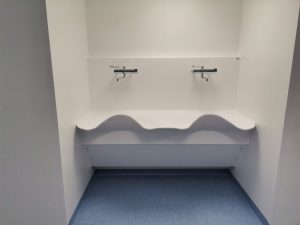 Our range of unique Surgery Sinks can be supplied with our Challis touch-less water management system units, designed to reduce water usage and promote optimal hygiene. The system is controlled by an infrared no touch sensor that detects when hands are placed beneath the faucet and dispenses water at exactly the required temperature whilst the hands are in the detection zone. This ensures that water is not wasted, reducing water usage by up to 50%, and also minimizes the risk of cross-contamination.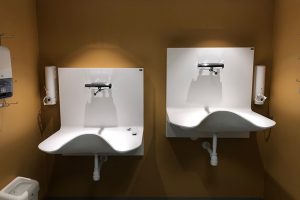 The sink's Corian material also allows for a seamless and jointless design, which reduces the risk of bacterial growth and makes the sink easy to clean. Its non-porous surface prevents water from seeping into the sink, ensuring that no bacteria can grow in any crevices or joints.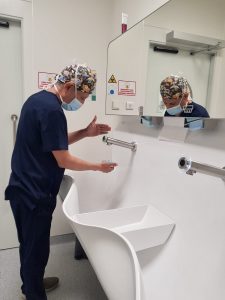 The Challis Ag+ tap range is also designed with safety in mind. Its anti-scald feature ensures that water temperature remains within safe limits, preventing burns and scalds. Additionally, the sink's smooth surface and curved design minimize the risk of splashing, reducing the risk of slips and falls.
Finally, the NOAS Surgery Sink OV860GW-01 is designed to be adaptable to a range of healthcare applications. Its compact design makes it ideal for smaller clinics or examination rooms, while its larger size makes it suitable for busy operating theaters or emergency rooms. The sink's ease of installation and adaptability mean that it can be quickly and easily installed in a wide range of healthcare settings.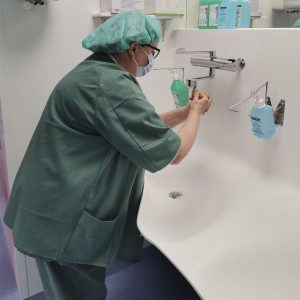 In conclusion, the Challis Ag+ NOAS Surgery Sink OV860GW-01 made from Corian is a durable and innovative sink that offers a range of benefits for healthcare settings in the UK. Its touchless water management system, easy-to-clean surface, anti-scald feature, and adaptable design make it an ideal choice for healthcare facilities seeking to improve hygiene standards, reduce water usage, and enhance patient safety. Its durable Corian material ensures that it will perform like new for years to come, making it an excellent investment for any healthcare facility.